Where in the center of Brno
Freedom Square, Brno Astronomical Clock
In the immediate vicinity of our guesthouse is the largest and also the oldest square in Brno - Freedom Square. It hosts traditional Christmas markets and many other cultural events every year. One of the modern landmarks of the square is the often sought-after Brno astronomical clock.
St James Square
St James Square is located just a few tens of meters from Freedom Square. Here you will find the Church of St. James and the entrance to Constance. James, which is the second largest in Europe after Paris. It is also worth mentioning a number of renowned pubs, restaurants, cafes and bars, which directly invites to visit.
Vegetable market, Brno underground
Most of the square of this square is made up of fruit and vegetable markets. During his visit, you will certainly not miss the Parnas Fountain and the Holy Trinity Column. At the bottom of the square is the entrance and exit of the Labyrinth below Zelný trh, a unique underground complex of corridors and cellars.
Capuchin square, monastery and tomb
This small square near the Central Station offers stunning views of Cathedral of St Peter and Paul and other historical monuments. In its underground is located one of the most important places in Brno - Capuchin tomb from the Baroque period with mummies.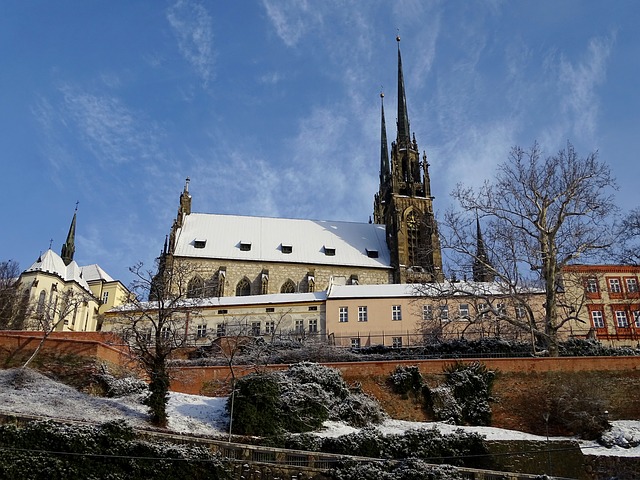 Petrov, Denis Gardens
On the hill called Petrov rises one of the main symbols of Brno - Cathedral of St Peter and Paul, which is also one of the most important sacred places throughout Moravia. Another place that you must not miss while visiting Petrov is Denis Gardens - a city park, from which there are wonderful views of Brno and its surroundings.
Špilberk Castle
One of the most important historical landmarks of Brno is a huge complex on the top of the hill of the same name. Often concerts, theater performances and other cultural events are held here. Casemates are also a popular tourist destination - dark vaulted corridors surrounded by many legends.
Other attractions in the nearest surroundings
Moravian Gallery
The Brno House of Arts
Malinovského nám. 2
602 00 Brno
Old Town Hall
Radnická 8
602 00 Brno-střed
Rainbow Fountain at Janáček Theater
Rooseveltova 31
602 00 Brno-střed
When you want to please your taste buds...
Hnízdo Restaurant
Hnízdo Restaurant is located in modern premises next to the area of the BRuNO family park grounds. Here you can enjoy a varied selection of dishes made from quality ingredients. For children, there is a well-equipped children's play area, so you can be sure that the whole family will enjoy the visit. During the working week, there is a three-course menu at lunch time plus a business menu that also includes coffee. The menu also includes vegetarian and gluten-free dishes.
When you are looking for a place for the perfect corporate event...
Corporate events in Brno
Are you looking for unique modern spaces for your corporate teambuilding, corporate party or a fantastic corporate family day? They can do it in the BRuNO family park! They are the only ones that specialize directly in the children's day product, or corporate family day. Thanks to the rich experience it is possible to realize events for 800 employees. Take advantage of the most comprehensive solution to ensure the actions of your employees or your great work team.
O nás
Využijte skvělého ubytování v centru Brna
We are in the center
Tips for visiting Brno
1

2
The Brno Astronomical Clock
11
The Brno House of Arts
More details


Dvořákova 1
Brno, 602 00, Czech republic